6 Cool Windows 10 Tricks and Hidden Features, windows 10 came out and world went crazy about the OS from microsoft. However there are several hidden features and tricks which you may or may not know about here are, 6 Cool Windows 10 Tricks and Hidden Features You Should Know about.
6 Cool Windows 10 Tricks – Trick 1
Automatically Lock Your PC (Dynamic Lock) : Yes, this is possible you can automatically lock your pc, this is how you can do it –
Use Bluetooth to pair your phone with your PC.
On your Windows 10 PC, select the Start button > Settings > Accounts > Sign-in options.
Under Dynamic lock, select the Allow Windows to automatically lock your device when you're away check box.
Take your phone with you when you move away from your PC, and it will automatically lock a minute or so after you're out of Bluetooth range. (Note that Bluetooth range varies by devices.)
Use Emojis in Windows – Trick 2
Use Emojis in Windows : Yes, yes you can use emojis on windows 10 how? Well hold your horses, here –
First access the on-screen touch keyboard, then click on the keyboard icon in the system tray.
If the on screen keyboard icon is not there on the system tray then right-click the task bar and check Show touch keyboard button.
Free Up Storage via Storage Sense – Trick 3
Yeah yeah you have lot of stuff on your PC and you are now unable to install the new CALL OF DUTY game what would you do? Free up some space genius. You want to know how to do it without an effort? Here we go –
Click the Start button and click the Settings icon. The Settings app appears.
Click the System category, and click the word Storage from the System page's left column.The Storage settings appear.
Click the Storage Sense toggle switch to On.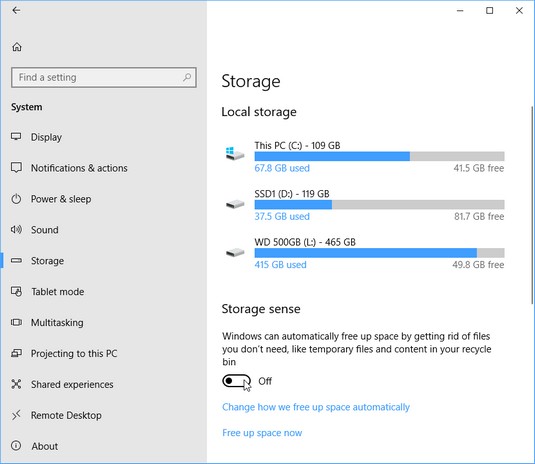 Using Steps Recorder – Trick 4
This is for all those people who make youtube videos, or want to make youtube videos ,
There are two ways you can open windows 10 steps recorder –
First you can use cortana search, open Steps Recorder, type psr in the search box on the taskbar, and then press Enter key.
Second, you can use windows run program to open steps recorder just Press Win+R keys to open the Run box. Input psr and hit Enter.
After you open the steps recorder launch steps recorder and then start using the steps recorder with these simple steps,
Click the Start Record button to start your recording. And once you are done with the recording simply stop the recording –
After that save your steps Review the record of the steps you followed to make sure it shows what you want it to show. Select the Save button, type a name for the .zip file, choose where to save it, and then select Save.
Sticky Notes with Insights – Trick 5
Once you open sticky notes on your windows 10 you can use insights how? well,
Insights for Sticky Notes is a feature that allows Cortana to scan your notes for information (such as dates, times, phone numbers, addresses, websites, stock symbols, flight numbers, and more), which can help you to quickly create reminders or take action based on the content that you wrote.
If you want to enable or disable insights, use these steps:
Open Start.
Search for Sticky Notes, click the top result to open the experience.
Click the Settings (gear) button in the top-right corner.
Under "General," turn on or off the Enable insights toggle switch.
Set up and Schedule Night Light – Trick 6
Hey we care for your health as well, so turn down the lights of your screen a bit. So ,
Select Start > Settings > System > Display > Night light settings. If your night light toggle above the link is grayed out, you may need to update your display driver. See Update drivers in Windows 10.
Under Schedule, toggle Schedule night light to On. Then, either select Sunset to sunrise, or select Set hours and enter custom times for the night light to turn on and off.
Turn the lights down to ease it up.
Windows 10 tricks
So these are the 6 windows 10 tricks you may or may not know about. Also read about iPhone 6s plus speaker and earpiece not working
If you face any windows 10 related issue you can call us on 9830444493
or